Ways to Save on Healthcare (Online)
Posted on |
With growing Health Care costs all around the nation, it's hard to budget expenses for health coverage.  Whether or not you have health insurance is a mindset, not just a financial position.  If you need health care, you can look at several apps to find cheap and efficient health care options.
Hack Health Care! We hope some of these services help you save on your health!
1:  Get Deals on Prescriptions
Rising health care and prescriptions are a real concern.  Good thing GoodRx is here to help you find your prescription at any local drugstore…with dramatic discounts.
Here's how it works:
At GoodRx.com you should type in your prescribed medicine
Find local pharmacies with discounts
Print or show coupon at checkout
Save massively!
2: Video Chat with a Doctor (and get prescribed)
The days of calling your primary care provider, scheduling an appointment, and sitting in two waiting rooms to visit your doctor are over.
Curious about how to chat with a Doctor via Text or Video Call?
There are several new apps entering into this space.
HealthTap (iOS and Android)
Doctor on Demand (iOS and Android)
Your Local Hospital
It may come to a surprise that your larger trauma based hospital may support an app with the ability to talk to a doctor on demand via smartphone.  The technology is out there, and it's only going to grow from here.
How Do I Get Prescribed Medicine Via Chat?
Once you've paid for a subscription or a single virtual visit, you'll be seen by a qualified doctor with the ability to diagnose your ailments.
Have a diagnosis that requires a prescription?  You'll be able to attain one from a provider and bring it to your local pharmacy no problem!  Doctors, however, may reserve the right to ask you to consult someone physically for anything they cannot diagnose.
3: Digital Discount Card for Pharmacies
Blink Health works like a traditional discount prescription network but with a simple interface and a ton of options.  It's time to save at the drugstore (pharmacy)!
Sporting a clean interface, Blink Health will get you the pricing and information you need to pick up your prescription within a time frame that fits you.
How does Blink Health work?
The service acts almost like MoviePass, whereas once you find your prescription online, and pay for it online on [eafl id="3120″ name="Blink Health MH Promotion" text="Blink Health"], you'll have access to a payment card. This card is what you show your pharmacy when it comes time to pay.
Who is eligible?
Anyone who has been prescribed and has an active prescription note can use Blink Health. If you are not insured, do not fret, you'll also have access to this service. The significant part is that there are no membership fees!
But Where does it work?
Blink Health can help you find prescriptions in small pharmacy stores, to larger chains like CVS, load up the app and find out where you can save the most!  Here are some other places where we've seen Blink Health work!
Publix
CVS
Kroger
Walmart
Safeway
Riteaid
Similarly to GoodRx, but in this case you'll belong to a closed discount network with access to hundreds of deals right near you!
4: Get Prescribed Drugs Delivered to You

An excellent alternative to Blink Health would be Phil.  [eafl id="3851″ name="Phil" text="Phil"] essentially makes it easy to refill your prescriptions and get them delivered right to your doorstep to little or no extra cost.  Phil makes it easy by providing you with:
Medicine delivered right to your door
They work with your Doctor, so you don't have to do any correspondence
Schedule refills on your schedule
Include other family member's prescriptions
Troubleshooting with any insurance issues
5: Text with a Therapist
Getting therapy is a healthy option whether you have depression or need someone to talk to that is unbiased and trained in mental wellness.  Enter Talkspace, a premium texting service that connects you to a qualified therapist with the experience necessary to help you.  You can also seek marriage counseling through the app and include a spouse within your group texting.
For $49 a week you get a licensed therapist.  Sure, it's a tad pricey, but hey, it saves you time on the drive to a Therapist's office.

6:  Get a Free Eye Exam…From Your Smart Phone
The only in-person action you need before buying any prescription glasses (or contacts) is completing an eye exam, which is typically covered by insurance, but for many, optical coverage isn't always a given.  Barring anything emergency related, which you should see an eye doctor for, you can very well perform an eye exam right from your smartphone.  1800contacts makes it super easy using a laptop or even a smart phone!
1-800 Contacts introduced a free eye exam using your phone!  Get prescription by visiting this link.  Just take and receive the prescription without having to deal with an office visit!
Renew your Contact Exam on 1800contacts
7: Prescription Glasses Delivered (and Free to try!)
We have observed my friends and family purchase eyeglasses at a mall or from a brick and mortar shop only to be surprised to see what they had to pay (or have insurance pay).  If fully covered by insurance, which is rare for vision, then purchases brick and mortar could still be an option.
But, if you are like the rest of us, ordering online cuts the cost by an average of 60%-80%.  For one, these shops typically have to pay their employees, doctors, rent, etc.  Whereas an online store like Warby Parker can charge you for the prescription glasses and shipping directly to you.
Warby Parker, unlike other online shops, actually allows you to try on five pairs of frames before you order.  They ship you the ones you like, try them on, decide on which one(s) you want, send them back, and they'll add your lenses.  Many times, the total price is around $100.
Buying glasses, like many other services, are starting to adapt their model to serve you digitally.  You could even do a few more glasses shopping hacks like:
Buying the Frames Online First (then getting prescriptions done in-store)
Buy multiple pairs of prescription glasses through a wholesale site like EyeBuyDirect
8:  Get a better smile…sent to your mail 😁
It's been six months, and you get the dreaded call from your neighborhood's dental office asking you to come in for a cleaning.
Going to the dentist's office is probably the least pleasurable experience, almost as bad as waiting in a self-checkout line behind non-tech savvy people.  It's long, it takes patience, but you'll need to stay with it order to get healthy.  Plus, it could be expensive.  Check out how we can calculate a visit to the dentist:
BASIC DENTAL PROCEDURES
3
Price depends on dental fillings type
0
Price depends on oral surgery type
RECONSTRUCTIVE DENTAL PROCEDURES
Luckily there are exciting (if you call it that) apps that will cut out as many chores the dental office will assign to you.  Go ahead and open your mouth at let's take a look.
[eafl id="10203″ name="quip" text="Quip"]
If you are the type who is always on Twitter or Facebook, there's a solid chance you've run into a toothbrush that acts more like a trend than a capable and affordable dental device.  However, Quip is quite affordable for an electric toothbrush from $25 – $40 and they offer a wide array of top of the line toothpaste and floss.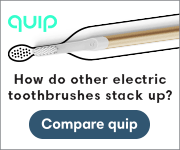 [eafl id="10204″ name="SmileDirectCLub" text="SmileDirectClub"]
Scared to get braces as an adult?  Or maybe you are young enough for braces but don't want to deal with Orthodontic appointments once in a while.  SmileDirectClub figured out how to cut out the middleman, the Orthodontist, by allowing an average person to scan in their teeth and have an invisible plastic aligner that will help straighten your teeth.
[eafl id="10205″ name="Smilelove" text="Smilelove"]
Welcome the newest alternative to SmileDirectClub in SmileLove.  With a very similar model to them but cutting out the whole appointment for a 3D scan of your mouth, Smilelove will allow you to send pictures of your mouth using your smartphone or camera.  Plus, it's a few hundred dollars cheaper than DirectClub.

9: Send and Pick Up Your Prescription Digitally
One surprise to the list would be CVS's new app.  You can do a ton now with the app, including scanning of prescriptions and sending them to pharmacies for pickup later.  Lot's of patients don't know what happens or are confused about what happens after a Doctor's Appointment is finished.
Like most things Health care, sometimes the Doctor will hand you a Prescription, and some may give it to the Front Desk for Automatic Prescription Processing.
CVS makes it easy to scan and pick up a prescription to the location of your choosing.  So if anything, get the Prescription in hand!
Here are some other benefits of the CVS Health App!
Use App to Pick Up Prescriptions (instead of Birthday)
Talk to a Doctor on the Phone (Using Minute Clinic)
Order Photos Directly
More Discounts with Extra Care Rewards
10: Get Marijuana Delivered to Your Door
While a controversial topic revolves around whether or not marijuana should be legalized as a recreational drug in your community, online companies are booming within this industry looking to get a head start.  Ever wonder "How to get weed delivered straight to the door?" Eaze is the solution that allows it, only in recreational and approved states (CO and California)
If you live in a legally accepted state, you may find the website [eafl id="3161″ name="Eaze" text="Eaze"] solid choice for online marijuana delivery.  Much like an UBER of Marijuana delivery, you'll see choices to order not only marijuana products but also the ability to become a delivery driver.  Yep, that's right, earn cash delivering Marijana.
Doctor Approved Marijuana Cards
We've already mentioned [eafl id="3161″ name="Eaze" text="Eaze"] and how they offer products, but they also supply medical cards approved for marijuana use.  Eaze.md is an additional service that allows a typical patient chat with a real doctor to get prescribed for marijuana.  If you or someone you know has an ailment related, or treated instead, by Marijuana, give them a try!
Find Marijuana Near You
If you are an appropriate person, you can find dispensaries down the block.  Interested?  Use WeedMaps to see what your weed resources locally.
11: A Doctor's visit that isn't in a waiting room all day
Of course, the coolest and more efficient way to get Health Care is only located in a few spots, like San Francisco.  That's exactly what Forward is.  Think of it as Health Care 2.0 where you'll cut out unwarranted waiting times.
Just this week I had to take our daughter into the Doctor's office for an appointment at 10:45.  We saw the Doctor at 12:00 and it was for 5 Minutes.  Shouldn't this be the other way around?!
Here are the fantastic benefits of Forward:
Monthly Membership of $149 Per Month
Get Genetic Analysis
Unlimited Doctor Visits
3D Body Scan with Blood Monitoring
Works with HSA and FSA
Personalized Health Plan (through the app)
12: Fund Your Health Savings Account (w/o an employee based one)
Health Savings Accounts or HSA accounts are a forgotten benefit that most employers simply do not give out anymore.  How an HSA works is that you can set aside a small percentage of your paycheck into a non-taxable Health Savings Account, that is FDIC insured so that you won't be taxed on your income if you place money into it.
In other words, you can only spend the savings account on Health Care related stuff like Dental, Hospital, Prescriptions and a few select other transactions.  For most employers, they select a carrier for you and when you lose your job whether it's a transfer or being laid off.  You may have to transfer your HSA account elsewhere.
Lively is one of the pioneers in this space where anyone, whether you are employed or not, can organize and maintain an HSA account for FREE.  Remember, having an HSA account is Tax-Free or if you are a self-employed worker you can write HSA contributions off as a Tax Deduction!
Never has there been an easy way to sort out your HSA account until this amazing app, Lively!

In Conclusion
There are lots of ways to stay healthy, and now with these excellent new services, you can save more time and money!